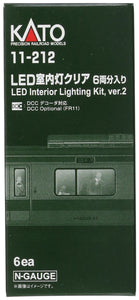 Kato 11-212 LED Interior Lighting Kit 6 Cars Set N Scale

[Interior light]
●One of the joys of model railroading is recreating night views. The dazzling headlights of an express train, the taillights of a passing passenger car, the interior lights illuminating the inside of the train... The production of ``light'' can be said to be a major element in enlivening the mood of the railway at night. KATO's interior lights are snap-on types that do not require adhesive or soldering, so they can be easily installed.

[LED interior light clear]
●An LED indoor light that has a color similar to that of fluorescent lighting. It can be installed on any vehicle with the "[OP] 11-211" mark, regardless of whether it is a train, diesel car, or passenger car. If you attach the included light bulb color filter, it will become a pale daylight color, similar to the lighting of green cars on Shinkansen and conventional express trains.

[Features]
●60% more brightness than conventional products (#11-209/210)!
●Achieves lighting with even brightness. Now you can reproduce more realistic scenes!
●The lighting board is thin and has a structure that makes it less noticeable even on vehicles with low roofs!
-Can be installed not only on subway cars but also on cars compatible with conventional products (#11-209/210)!
●Like conventional products, a color filter is also included to reproduce the light bulb color.
●The number of parts has been reduced, making it easier to install interior lights!

【Notices】
●For applicable vehicles, please refer to the manual of each vehicle.
-New interior light set (product number 11-204/11-206), white interior light (product number 11-209/11-210)
This product can also be used on the target vehicle.
*For installation on the vehicle, please refer to the included instructions.

[Specification change information]
●Specifications of the attached lighting board will change from April 2023 production.
●Previously, there was white printing to diffuse light, but the new specification product will eliminate the printing and change to a shape with engravings to diffuse light.
●There are no changes to other specifications such as the board.
●There is almost no difference in the lighting condition, and we consider them to be the same product.