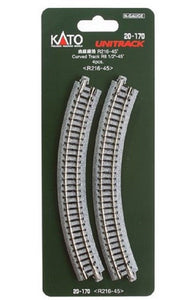 Kato N Scale 20-170 216mm 8" Radius 45º Curve Track R216-45

UNITRACK curved tracks are based on curved track R 315 (line center radius 315 mm) and are multi-line intervals every 33 mm, with main line curves for different radii on the inside and outside.
R216 - 45 ° is a curved line that can form a circle with a line center radius of 216 mm with 8 lines and it becomes a double line from the reference R 315 and becomes a curved line inside 3 lines.
Shinkansen vehicles and other vehicles with small turning possibilities may derail. Please check the mileage limit of the vehicle and use it.