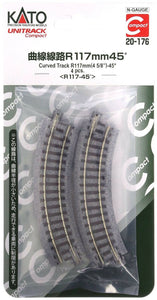 It is a small radius curved rail, unitrack compact curved track R117 mm 45 ° (4 pcs).

※ Please note that there are restrictions on the vehicles that can be driven.
Please confirm the minimum passing radius of the instruction manual attached to the vehicle product. If not stated, the minimum radius is R249 for KATO vehicles.